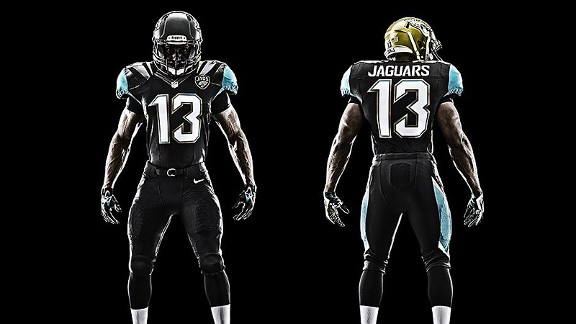 The Jaguars will have a new look when the team kicks off its 2013 campaign against the Chiefs on September 8. According to the team's owner, Shahid Khan, the new uniforms will balance Jacksonville's tradition with the future. Nike's vice president Todd Van Horne says "the first thing you'll notice is a powerful color statement," -- one that includes a teal stripe, which was added to pay tribute to the sky and water in Jacksonville, and a gold helmet. Did the Jags go in the right direction with their new threads?
More on the Jaguars' new uniforms: Vote!
KingGeorge11715: "Definitely the sleekest, most current-looking jerseys in the NFL. It's refreshing to see an NFL uniform with flare. New Jag uniforms are winning, now let's hope the team follows suit."
beastpwner2: "these jerseys are dope. They might not make the playoffs, but they'll look pretty good doing it."
beyrleman82: "The entire uniform looks SO sweet!!! Can't wait to get my jersey!!"
carshawn03: "I'm not a big fan of these. They could have done more with them. I was thinking they would go way futuristic, but I was wrong. And that helmet is just trash! But, Go Jags!"
CF1978: "Nowhere near Seattle Seahawks cool, but an improvement."
Marcus9441: "Helmets look terrible. An all matte black would have looked better. Also the teal on the sleeves would have been better just as trim. But hey, who cares really as long as they can find a way to win."
Join the conversation or respond by signing in or creating a profile and blogging.