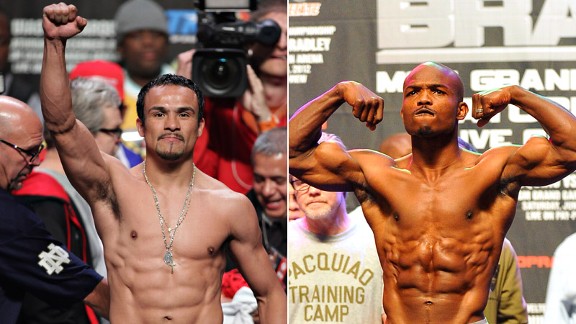 Timothy Bradley Jr. has agreed in principle to defend his welterweight title against Juan Manuel Marquez in a Sept. 14 showdown at the Thomas & Mack Center in Las Vegas. Either fighter could have chosen to take on Manny Pacquiao -- a fighter who lost to Bradley via a divisive split decision and was KO'd by Marquez in the fourth of their storied fight history -- but instead they settled on the challenge of fighting one another.
---
Let's fight ... again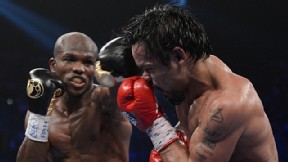 Timothy Bradley Jr. won a controversial split decision fight against Manny Pacquiao in June 2012. Six months later, Juan Manuel Marquez stopped Paquiao with a six round knockout.

---
beer the breakfast of champions: "Should be a good matchup. Bradley was unfairly shunned and written off after the Pacquiao fight, but now it's his chance to prove he can beat a top fighter in Marquez."
Aaronssweetscience: "Wow what a hell of a fight this one is going to be. Credit both of these valiant warriors who duck no one for taking on a great challenge. Can't wait!!!"
Josh00079: "great fight..marquez would dominate bradley..a late stoppage i think..bradley has a hang-over in his last fight..."
DanTheKing19: "I think JMM can KO Bradley...Bradley looked really hurt in the first couple rounds in his last fight and I think JMM will hurt him a lot more."
winglessbird2: "After 40+ rounds he was able to land the perfect punch after taking a beating and now Pac wouldn't be a challenge. Interesting."
VicBronson: "I like this fight, Tim Bradley has a great chin, huge heart and stamina. Neither guy is afraid to engage and fight, should be a good one!"
cyrus_cesar: "I'm actually hyped for this fight because I can't pick a clear winner. Everything is saying Bradley because he's younger and should be sharper, but I wasn't that impressed with him when he fought Pac Man, and that was after the first round. On the other hand, Marquez looked strong as hell at welterweight last time and rocked Manny...Tough fight to pick"
Join the conversation or respond by signing in or creating a profile and blogging.