It's not often one can say history is firmly on the side of the Los Angeles Clippers. But get this: the math favors one of the NBA's most star-crossed franchises, thanks to its 2-0 lead over the Grizzlies entering Thursday night's Game 3 in Memphis. According to the Elias Sports Bureau, since the first round went to a best-of-seven format in 2003, 27.7 percent of teams with a 2-0 series lead have swept the series, while 33.7 percent have won in five games.
The odds are much longer for the Grizzlies and Bucks, who trail the Heat 2-0 and host Miami for Game 3 on Thursday. According to Elias, only 6 percent of teams taking a 2-0 series lead have lost the series in six games, while a mere 2.4 percent -- that's 2 out of 83 -- have lost in seven. That's not good news for Brandon Jennings' "Bucks in six" prediction.
---
Heat vs. Bucks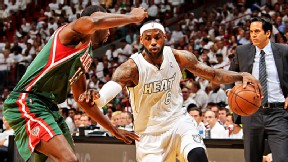 Larry Sanders said to LeBron James, "We're here." The question is, for how long?

---
Nets vs. Bulls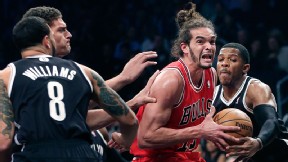 Joakim Noah and Joe Johnson are battling injuries heading into Game 3. Not an ideal situation for the Bulls' energizer to be hobbled with a bad foot, and the Nets' second-leading scorer to be a game-time decision with the series tied up.

---
Clippers vs. Grizzlies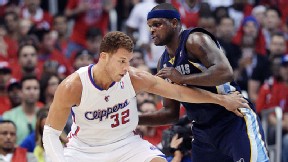 Last year's Clippers-Grizzlies first-round playoff series went seven games, with Los Angeles being the victors. Will it be deja vu for Memphis?