Russ Smith faced a tough decision: Chase a second NCAA championship at Louisville, or enter the NBA draft and cash in? Smith chose another year of school, which he plans to use to improve his game and earn his family's first college degree. Did he make the right choice?
---
Driving for two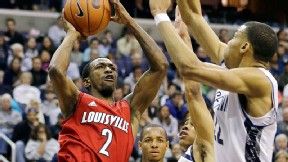 Russ Smith averaged 18.7 PPG at Louisville last season but decided he wasn't ready for the NBA. Will his return fuel the Cardinals to a repeat NCAA title?

Jon Bon Jovi 66: "You have to believe that the Ware injury may have played a little part in it. He may have realized, after seeing Ware's leg break in front of him, that any time his playing career can end just like that. So, for him getting the degree may be more important than moving on to play in the pros."
cards465: "By coming back he can put on some more weight and improve his game. If he goes overseas still after next season then that's fine he will still have his degree and he will probably make more money over there anyways."
Canyoudunk86: "This was a dumb move. He should leave while he is hot. I think him playing bad in the chip made him re-think his decision to return. I don't see how he could possibly get better by staying another year."
jasputan: "You can't dog on him for getting his degree. However if he has hopes of playing in the NBA this years draft would probably have been the best time for him to go. With that said, I still respect the decision."
registered ESPN member: "players get roasted for entering the draft after 1 season, and they get roasted for staying all 4 years. what is good for everyone, 3 years?"