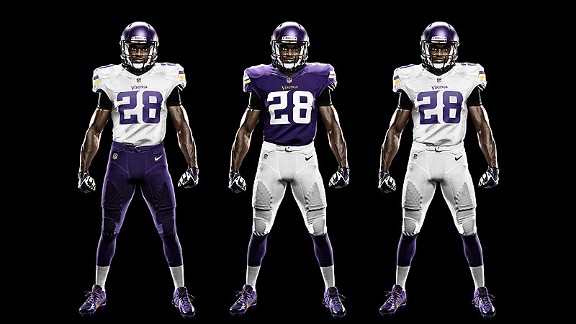 Shortly before the Vikings updated their roster by selecting DT Sharrif Floyd, CB Xavier Rhodes and WR Cordarrelle Patterson in the first round of the NFL draft, the team garbed in purple, gold and white unveiled their new uniforms. On a look that was created to be modern, yet traditional, Adrian Peterson said -- "this feels more like an original Vikings look you would expect from the Minnesota Vikings." What do you say? Comment below!
jlyncher23: "Love the stripes on the shoulders and the number font. They give them points that kind of look like their classic horns. Cant wait to see them play!"
World Leader in Opinion Censorship.: "Terrible, just terrible. I don't understand why they don't go back to their old jerseys, they are awesome and one of the best looks in the NFL."
Celtics2391: "i like the look...its a nice clash of the old school with the new school jerseys and the helmets look sweet as well"
christianhagen@live.com: "The only thing that really confuses me about the new helmets is the hole on the side which cuts the horns in half. You're telling me Nike couldn't design a helmet that kept the official logo of an NFL team in one piece? "
Marcus9441: "Helmets look terrible. An all matte black would have looked better. Also the teal on the sleeves would have been better just as trim. But hey, who cares really as long as they can find a way to win."