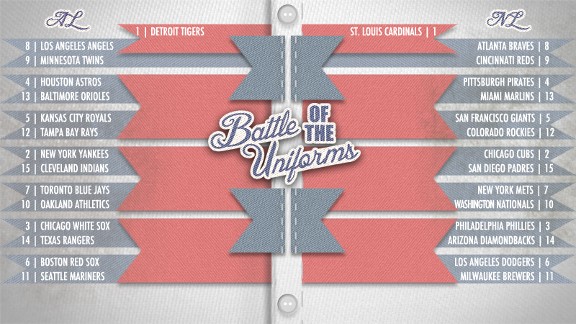 Jerry Seinfeld famously said that because of the way players constantly change teams and teams occasionally change cities, sports fans are actually rooting for clothes.
"You are standing and cheering and yelling for your clothes to beat the clothes from another city," he said. "Fans will be so in love with a player, but if he goes to another team, they boo him. This is the same human being in a different shirt, but they hate him now. 'Booo!!! It's a different shirt! Booo!!!!'"
Well, he's right about that. We do root for clothes. And against clothes. As well we should. If Yankees pinstripes or red socks or Dodger blue or, worst of all, those powder blue alternate Royals tops don't get your blood boiling, then you're not a true fan.

Which is why we're holding our Battle of the Uniforms. As Seinfeld said, what is most important is not the player but what the player is wearing. And no, we're not just talking about Kevin Youkilis, but that's a good example.
It's the uniform that is most important. After all, your team may stink. It may not have had a winning record in 20 years. It may not have reached the postseason in your lifetime. It may not have reached the World Series in your grandparents' lifetimes. But chances are your closet is still overflowing with your team's replica jerseys that you proudly wear to the ballpark, the office or the nightclub.
We can look at the standings and know which teams are on top, but which teams have the best uniforms? Which designs have stood the test of time, and which are as dated as the grunge look? Do you prefer the classic look of Detroit's old English "D" on the chest and the Yankees pinstripes? Or do you appreciate the South Beach neon look of the Marlins' jerseys? Should the bill of a cap be as profoundly curved as Christina Hendricks or as flat as the Marlins' offense? Should socks be visible to midcalf, to the knee, or tucked under baggy pants legs?
All this is for you to decide. We've seeded all 30 teams based on their standard home and road uniforms and placed them in a bracket. Throughout the week, you'll have new matchups to vote on each day until only one uniform is left standing. We'll announce the winner next Monday.
Until then, we'll also provide stories and lists about such things as what caused the god-awful '70s look, the rules for when and how to wear replica jerseys, and the good, the bad and the ugly of uniforms throughout the decades.
So check out the bracket. Read our style analysis. Vote for your favorite uniforms. Vote against the ones you hate. And keep checking back each day to see which teams advance and who ultimately tops your best-dressed list.
One request: We know people can get pretty passionate about uniforms, but please keep things civil. If the fashion police can't maintain order, we may have to call in the security in those Padres camouflage jerseys.
--Jim Caple
Note: Detroit Tigers and St. Louis Cardinals have first-round byes; first-round polls close at
9 a.m. Tuesday, and the next round begins shortly thereafter.
Mobile users: To vote, click here.
Jim Caple bracket: American League
---
(2) Yankees vs. (15) Indians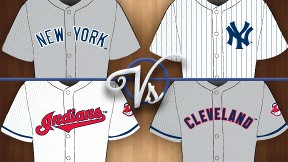 With one of sports' greatest logos (the Tiffany-designed NY) pitted against one of the worst (Chief Wahoo), this battle should be as lopsided as the trade that sent Graig Nettles from Cleveland to New York.

---
(3) White Sox vs. (14) Rangers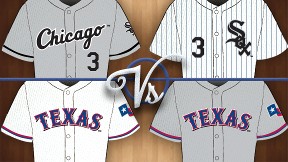 With that great SOX design across the chest, this should be a much more favorable matchup for Robin Ventura against Texas than when he charged Nolan Ryan.

---
(4) Astros vs. (13) Orioles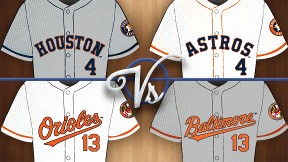 The Orioles would stand a much better chance if this were the late 1970s and early '80s when their white-front cap style was in fashion and the Astros were wearing rainbows.

---
(5) Royals vs. (12) Rays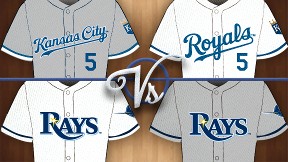 K.C. should win this matchup … unless the Royals wear their powder blue alternate tops or Joe Maddon comes up with another great road-inspired costume theme for his players to wear.

---
(6) Red Sox vs. (11) Mariners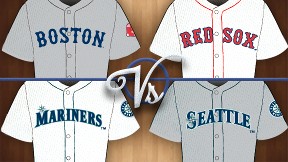 Have to favor the old classic Red Sox look in this matchup, unless Seattle's King Felix shows up wearing his crown and velvet robe.

---
(7) Blue Jays vs. (10) Athletics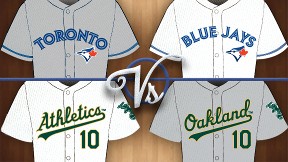 The Jays should win this matchup. Then again, the Jays should look a lot better in their uniforms this year than they have so far. But never underestimate the power of an elephant.

---
(8) Twins vs. (9) Angels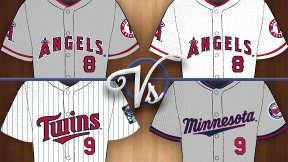 In the logo battle between TC and the haloed A, the Twin Cities of Minnesota get a slight edge over the Los Angeles Angels of Anaheim.

Paul Lukas bracket: National League
---
(2) Cubs vs. (15) Padres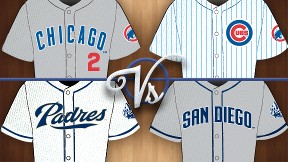 A gorgeous, time-tested look versus a generic slate of blandness. Feels like a mismatch, right? But hey, upsets are always possible.

---
(3) Phillies vs. (14) Diamondbacks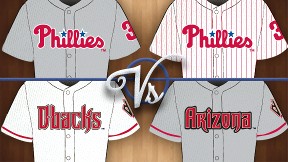 Old-school versus new-school: The Phillies have had only two different uni templates since 1950; the Diamondbacks had two different uni templates within their first decade of existence.

---
(4) Pirates vs. (13) Marlins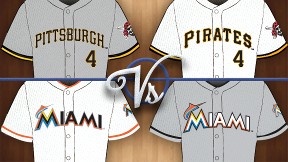 Let's say you're a baseball player, and you can be drafted by the Pirates or the Marlins. Either way, you're gonna lose a lot of games. But wouldn't you rather lose them in that nice Pirates uni?

---
(5) Giants vs. (12) Rockies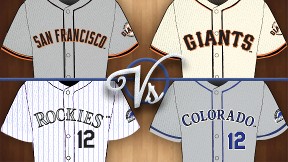 Fun fact: The Rockies are the only MLB team that currently wears purple. But it may take more than that to defeat the classic look of the defending World Series champs.

---
(6) Dodgers vs. (11) Brewers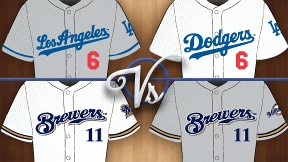 Say this much for the Brewers: They sure have a lot of uniforms (home, road, home alternate, road alternate, throwback, Spanish, Polish, Negro League, etc.). But does quantity equal quality?

---
(7) Mets vs. (10) Nationals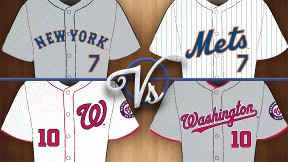 Granted, any uniform looks better when Stephen Strasburg or Bryce Harper is wearing it. But the Mets' look still feels more natural, while the Nats' feels forced.

---
(8) Braves vs. (9) Reds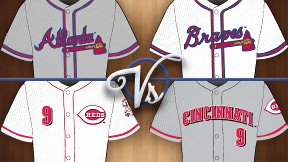 Subtlest uni change of this season: The Braves changed the belt tunnel piping on their alternate road pants from red to blue. Will that garner any additional votes?

Battle of the Uniforms seedings