How unlikely was the Bruins' Game 7 win over the Maple Leafs? Consider this: Three NHL teams have come back from a 3-0 series deficit to win a Game 7 in the Stanley Cup playoffs, and that's pretty rare. The last time a team erased a three-goal lead in the third period of a playoff Game 7? It had never, ever happened.
That is, it had never happened until the Bruins made history Monday night. Boston spotted the Maple Leafs a 4-1 lead, then stormed back to tie the game late in the third and won in overtime. How does the Bruins' remarkable win -- and the Leafs' equally remarkable late-game meltdown -- compare with the Cardinals' late heroics against the Rangers and Nationals, Reggie Miller's one-man dismantling of the Knicks in 1995 or the Bills' 32-point comeback against the Oilers in 1992?
---
How'd they do that?
The Bruins scored a pair of goals 31 seconds apart to force overtime. What's the bigger story: The comeback itself or how Boston pulled it off?

---
What a way to go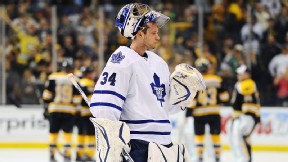 The Maple Leafs took a three-goal lead with less than 15 minutes left in Game 7 ... and it vanished. Is it worse to have a late meltdown with the finish line in sight, or to get swept away?

---
Is something Bruin?
Boston nearly blew a 3-1 series lead over the Maple Leafs before Toronto coughed up a furball of its own. Will the Bruins get past the Rangers in the conference semifinals?