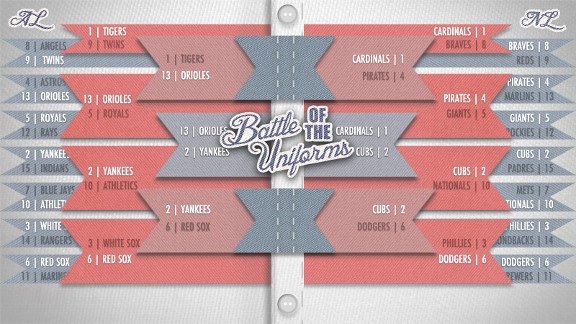 We've now reached the final four. Or, if you prefer, we've reached the league championship series.

Either way, the Battle of the Uniforms is now in the home stretch (or as a malapropism-prone boss of mine once liked to say, "the home run stretch"). In the American League, the Orioles are facing the Yankees, and the National League crown has come down to the Cubs and the Cards.
The seedings, done by Jim Caple and myself, have largely proven accurate. Three of the final four teams were seeded either No. 1 or No. 2 in their respective leagues, which means our uni assessments are largely in line with yours. The lone outlier is Baltimore, which was seeded 13th but upset the top-seeded Tigers.
I'll admit it: I was kind of hoping for a rogue uniform design to make it to the semifinals, just to make things interesting. The Diamondbacks, say, or the Marlins. And I was seriously rooting for the A's to upset the Yanks (they came thisclose). In the end, though, the classic designs have won. And that makes sense: The classics are classic for a reason.
The cool thing about the Battle of the Unis is that several on-field rivalries have been echoed at the ballot box. Wednesday we had the Yankees just eking out a victory of the Red Sox (whose fans were no doubt chanting "Yankees suck!" as they clicked on the Sox icon), and now we have a classic National League matchup, as Chicago and St. Louis face off for Senior Circuit supremacy.
So who's going to advance to the uniform World Series? You folks get to decide that. But I'll say this: I'm voting for the teams with the feathers.
--Paul Lukas
LCS-round polls close at 9 a.m. ET Friday, and the championship round begins shortly thereafter.
Mobile users: To vote, click here.
Jim Caple bracket: American League
---
(2) Yankees vs. (13) Orioles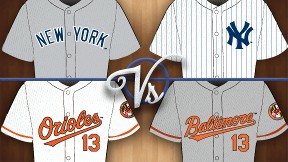 The Birds have upset three teams so far, but can they knock off the Pinstripers for the AL title?

Paul Lukas bracket: National League
---
(1) Cardinals vs. (2) Cubs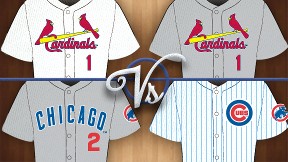 These two teams have always had an on-field rivalry. Good to see that's extending to their uniforms.

Battle of the Uniforms seedings