Just like so many other couples who are in the process of getting married, Robert Griffin III and his fiancée registered at Bed, Bath and Beyond. Nothing wrong with that, right? Well not until the Washington Post stepped in. The newspaper posted a link to their wedding registry on its website and fans took to buying gifts. RGIII tweeted a picture of himself leaning on the boxes he received thanking fans for their generosity, and later sent a tweet responding to critics who say he shouldn't keep them but donate them to charity instead.
KnownAsSliz: "What fans do with their money is their business ... It would be nice if RG3 did donate some of the gifts from fans to various charities, but that's his and his spouse's decision."
orlando: "If fans want to buy him gifts, that is there choice. The suggestions that he should donate the items are a bit much in some ways. Yes, he can afford it on his own, but even the rich fill out registries because friends and families want to show appreciation and that they care. So gift giving is not just based on who can afford it. And if the fans want to show they care, then they can have at it."
kujayhawk1188: "Not his fault that people are buying these things. People do what they want ... its dumb they are doing that but that is not on RG3. Dumb for people to be mad at him for it."
thsCoach99: "I know it is customary for weddings ... especially if you are 23, but he really shouldn't have set up a wedding registry ANYWHERE if you make millions per year and are an NFL quarterback. This was just a mistake in judgment."
If I had a million dollars: "Kinda tacky any way you look at it! Just make sure you have a stellar season RGIII!"
jhett09: "Hopefully all of those fans get 'Thank You' letters."
What do you think? Leave your comments below.
---
What to do next?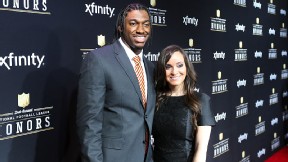 Fans showered Robert Griffin III and his fiancee Rebecca Liddicoat with unsolicited gifts. Now the only thing to do is write 'Thank You' letters, right?