Maybe LeBron James was merely borrowing from the school of self-motivation that served Michael Jordan and Bill Belichick so well in taking issue with a seemingly mundane statement. Then again, maybe Pacers coach Frank Vogel really was trying to get under the Heat's skin and motivate his own team when he said "They're the next team that's in our way, and that's how we're approaching it."
As pre-game trash talking goes, it's not exactly Thomas "Hollywood" Henderson questioning Terry Bradshaw's ability to spell the word "cat" before Super Bowl XIII. And according to NBA.com, Vogel said Monday that he's got respect for LeBron and the Heat. Either way, the Eastern Conference finals, which start Wednesday in Miami, now have a juicy subplot. But a more basic, pressing question remains: Do the Pacers stand a chance?
---
Say what?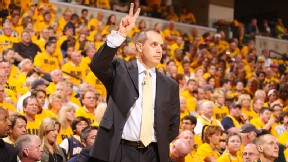 Factual statement or fighting words? Frank Vogel sure got the Heat's attention.

---
overbite9: "The Heat are NOT just another team. However, that's not a comment that should get anyone riled up. Lebron needs something to fire him up and he'll look for anything he can to do that. This is the first opportunity he saw. Best player in the world by far, but he does act like a little baby sometimes."
Federico6646: "If you wanna win, every team you have to play MUST be "just another team". Actually I don't understand LeBron this time. Just because you won a title and a bunch of MVP titles, and people call you "King", it doesn't mean that everybody should bow in front of you. For the Pacers, Heat are just another team."
JHolz85: "Nothing Vogel said is incorrect. What's he supposed to say? We're going to get killed? Why bother showing up?"
An7527: "please people don't OVEREACT. LeBron is just motivating himself ... his team. They play great when motivated. Play dirty & physical and they will fight back. Pacers & Bulls knew it."
What do you think? Leave your comments below.