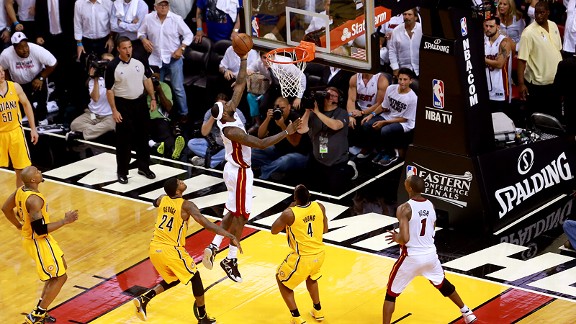 LeBron James drove to the basket and made a layup at the buzzer to give the Heat a 103-102 win over the Pacers in Game 1 of the Eastern Conference finals. NBA players immediately took to Twitter to react to James' basket and the Pacers' decision to keep rim-protector Roy Hibbert on the bench for the final play.
Right when Bron saw them take Hibbert out everybody in the arena knew he was going straight to the rim.

— Kendall Marshall (@KButter5) May 23, 2013
Wow.Lebron

— Mike Conley (@mconley11) May 23, 2013
How did he get a wide open layup? Lol. Great play call or TURRIBLE defense? Both? Lol

— Anthony Tolliver (@ATolliver44) May 23, 2013
Remember when bron wasn't clutch? Can't say that anymore #NBAplayoffs

— Patrick Ewing Jr (@pewingjr6) May 23, 2013
Lebron, triple double with 30pts!What a game!!

— Kris Humphries (@KrisHumphries) May 23, 2013
Got to have big fella in there with 2.2 seconds left. "Shot blocking"! got to love the NBA playoffs because its filled with excitement!

— Jermaine O'Neal (@jermaineoneal) May 23, 2013
Paul george and sam young let him go in for a layup like its the 1st quarter #foulhim

— chuck hayes (@c_hayes44) May 23, 2013
And that's why he is the best in the game.

— Austin Rivers (@AustinRivers25) May 23, 2013
Join the conversation and follow us on Twitter @ESPN.