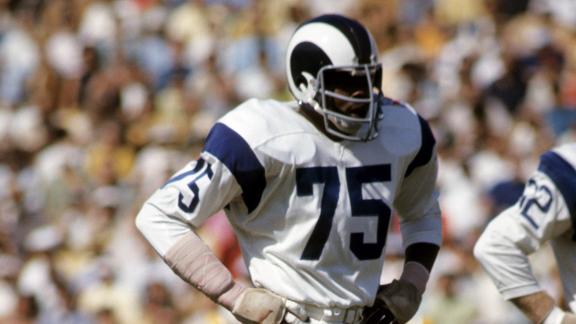 How large does Pro Football Hall of Famer David "Deacon" Jones loom in NFL history? Let's put it this way: Jones, who died Monday night at 74, is widely credited with first using the word "sack" to describe tackling opposing quarterbacks. Sacks didn't become an official statistic until years after Jones' 14-year career ended, so no one knows exactly how many he had. His impact on the game, however, is more easily quantified: Enormous.
As a cornerstone of the Los Angeles Rams' "Fearsome Foursome" defensive line, Jones, at 6-foot-5 and 270 pounds, genuinely inspired fear in opposing quarterbacks with the strength, quickness and ferocity he brought to the position. Though his career ended nearly 40 years ago, Jones is being remembered by NFL players on Twitter and by SportsNation as an innovator who reshaped the way defensive ends play the game, as well for his later appearances in TV shows and commercials.
On Twitter:
Reflecting & HONORING a true warrior & legend Deacon Jones. Thank you for blazing the trail so we all could soar. Your legacy lives forever

— Steven Jackson (@sj39) June 4, 2013
RIP to my friend, mentor and idol Mr. Deacon Jones. Was always there for me from the beginning and led the way for all if us DE's! #headslap

— Michael Strahan (@michaelstrahan) June 4, 2013
Got a lot of respect for Deacon Jones, the sackmaster. My prayers go out to him & family.

— Darrelle Revis (@Revis24) June 4, 2013
#Rip Deacon Jones you paved the way for guys like myself, played the game like it should have been played and told it like it was #NFL

— Shawne Merriman (@shawnemerriman) June 4, 2013
Deacon Jones. A true 60's innovator, showman & caring activist. Head slap, sack, civilized violence..U invented & coined them. De Salud-RIP

— Larry Fitzgerald (@LarryFitzgerald) June 4, 2013
Deacon Jones filled my childhood and adolescent years in LA with vivid pictures of greatness. I thanked him every time I saw him. RIP 75

— Chris Mortensen (@mortreport) June 4, 2013
SportsNation:
stevebowl: "My first favorite player. My dad pointed him out to me on our old black and white TV. "Watch this guy. They can't block him." He went through the line like a truck. RIP Deacon."
calimazda6 "Watch this guy on tape. His technique is flawless, and he's got a ton of size to boot. This guy would have been the best DE in the league in today's NFL. That's what kind of a player he was."
Delusional Kings Fan: "He truly changed the game, figuratively and literally. He was truly as dominant as one person can be at their position. There will never be another guy like him again and he will be dearly missed. The attitude, passion and work-ethic that Deacon brought to the game of football is something that is rarely seen in today's game of celebratory divas and athletes who feel more entitled than they really should. He represents an era of football that transcended the game itself. Football was much more than that to him and it sucks to see a guy with such passion have to go. Rest in peace, Deacon."
sharronaj: "I'll never forget him a few years back on Mike & Mike, talking about sacking the QB. He said "if he gets up, great! if he don't get up, GREAT!" Still cracks me up today. LOVED him. RIP Deacon!!!"
Danny48567: "A Los Angeles icon and arguably the greatest LA professional football player. What he meant to the city then and continued to be, will always be legendary."
AustinBeal: "I wish i could've watched him play, he sounds like one of those players that transcends time, meaning he could be the best at his position in any era, like Gale Sayers or Deion Sanders. And he was always a character when listening to him on NFL films. RIP Deacon"
broncosfan0724: "I did not have the honor to see Deacon play, but I will say, after seeing his highlights and interviews, you just get that feelin like "now that's a football player." RIP HOFer."
twdco: "I am old enough to remember when Deacon played. As a kid growing up in L.A. and being a big Ram fan, to me Deacon was bigger than life. I loved to watch him take down the QB. Deacon was the main pillar of the famous "Fearsome Foursome" along with Merlin Olsen, Rosey Grier, and Lamar Lundy they made defense cool, and the sack a play worthy of celebration. God Bless you Deacon, you were the best ever, both in my mind today and especially in the mind of that kid I was years ago."
EatMorePez: "He also taught Peter Brady that singing in the glee club was cool! RIP Deacon."
What do you think? Leave your comments below.