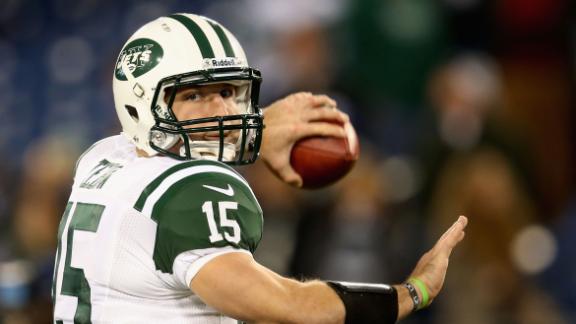 There's news that people talk about, and then there's news that makes people talk. Tim Tebow reportedly joining the Patriots? That's news that makes people talk. On Twitter and in SportsNation, athletes and fans were buzzing about the former Broncos and Jets quarterback and Heisman Trophy winner joining Tom Brady and Bill Belichick in New England.
New England Patriots RB Leon Washington
Yes Sir @timtebow Lets Put that Work In Bro #Blessed

— Leon Washington (@Leon_Washington) June 10, 2013
Brian Dawkins, who last played with the Broncos in 2011 and is from Jacksonville, Fla.
@timtebow if the news is true, take advantage my man!!! Congratulations#newchapter

— Brian Dawkins (@BrianDawkins) June 10, 2013
Tiki Barber, who tried to come back to the NFL in 2011
What?! Tebow to the Patriots? Did I just see that?!So much for Belichick hating him as a player...

— Tiki Barber (@TikiBarber) June 10, 2013
As for Tebow: If he had any inkling the Patriots were inviting him to minicamp, he offered no hints. His most recent tweet, as of Sunday afternoon, references other plans for later this month:
Looking forward to hanging with my boy @williebosshog at Wildfire Weekend in Greenville, SC bit.ly/Zz7Cw9

— Tim Tebow (@TimTebow) June 9, 2013
Don't discount the Patriots-Jets rivalry as a factor in this. ESPN's Damien Woody would know, since he played for both teams:
Don't think Belichick doesn't want to rub it in the Jets face w/ Tebow

— Damien Woody (@damienwoody) June 10, 2013
A Patriot last season, free agent Donte Stallworth tweeted that Boston won't turn this into a wild ride like the Jets did.
For anyone who thinks there will be a circus in New England with the Tebow signing, I have a bridge in #Brooklyn for sale...

— Donte' Stallworth (@DonteStallworth) June 10, 2013
Speaking of a circus, do you remember Tebow's introductory news conference with the Jets? This sports fan did:
So QB Tim Tebow is going to sign with the Patriots. I wonder if he's excited? Do you think he's excited? I bet you he's excited. #overrated

— Nicholas Mayer (@NRL_MAYER23) June 10, 2013
Hollywood weighed in as Boston's own Donnie Wahlberg tweeted enthusiasm for the move.
Tim Tebow to the @patriots is awesome! A real coach & QB, like Belichick & Brady, know the one way to make Tebow a weapon... #ThePatriotWay!

— Donnie Wahlberg (@DonnieWahlberg) June 10, 2013
Tim Tebow stories attract clever reactions from SportsNation. Here are some of the most-liked ones:

Vv BigAlex vV: "You can thank Chuck Norris for this. If Chuck Norris tells you to hire Tim Tebow....you hire Tim Tebow."
nittanylioness345: "I'm happy for Tebow, and wish him success. The Jets never gave him a chance."
billiouscheese: "UH OH THERES A QUARTERBACK CONTROVERSY IN NEW ENGLAND."
No Love for Lovie: "As a Pats fan, I remember laughing at other teams that picked up or wanted Tebow. Now I'm just going to go into a corner and sulk."
tebow2123: "And everyone said he couldn't be a high school quarterback. They said he couldn't be a college quarterback. They said he couldn't be an SEC quarterback. They said he couldn't win a Heisman trophy. They said he couldn't win a national championship. They said he wouldn't get drafted in the 1st round. They said he wouldn't be a starting QB in the NFL. They said he couldn't lead a team to the playoffs. They said he couldn't win a game in the playoffs. They said he couldn't be picked up..."
Join the conversation and follow us on Twitter @ESPN.