As many as five teams will reportedly wear short-sleeved jerseys in 2013-14. The jerseys, made by NBA apparel provider adidas, are designed to be lighter and offer players a full range of motion. But the potential for jersey sales to fans who'd prefer short sleeves over tank tops is also a factor. Is this a future fashion trend, or should the NBA stick with its traditional sleeveless look?
Friedchicken2121: "Sleeveless is unique to basketball, like longsleeve is to hockey. Leave em Stern."
MannyM07: "i wouldn't mind seeing them for like, 5-10 games a year on a few teams. they could potentially be cool looking. keyword: potentially."
Invincible083: "I feel like it's 1953 or something."
Daneyko: "A lot of players wear t-shirts under their jerseys in college and high school. It's not that big of deal and won't screw up the players."
IVN15213: "They look like Dodgeball shirts."
BlackIrishJersey24: "Leave the tshirt look to the 50 year old overweight dudes who play 4-4 half court at the YMCA."
---
Like the look?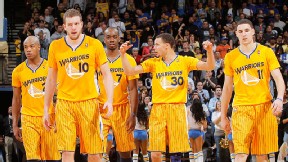 The Warriors wore short-sleeved jerseys during three games this season. This look isn't uncommon in high school and college, but does it belong in the NBA?