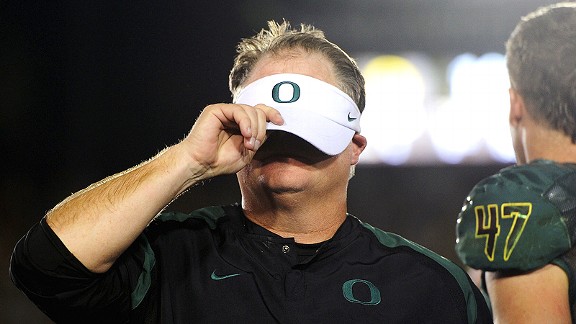 Harry How/Getty ImagesThe Ducks will need to be on their best behavior for the next three years to avoid further penalties.
Oregon is the latest major program to be hit with penalties stemming from recruiting violations, although the Ducks avoided the devastation of a postseason ban. Under Chip Kelly, the team paid $25,000 to Houston-based recruiter Willie Lyles, who provided cash and free lodging to a prospect; Lyles also had a connection to an Oregon recruit. Losing scholarships hurts, but all in all, it could have been much worse for the Ducks.
---
No bowls for Oregon?
Oregon has been placed on probation for three years and will lose three scholarships. The school will also suffer a reduction in official paid visits and evaluation days as well as a ban on using recruiting services during the probation.

---
A wider problem?
Was Oregon's biggest mistake getting caught? With recruiting departments getting bigger and bigger, is it really necessary to hire outside help? Perhaps it is if you want to compete for a national championship year after year.

---
Oregon in 2013?
The Ducks remain one of the marquee teams in college football and will be able to play for a potential championship berth.