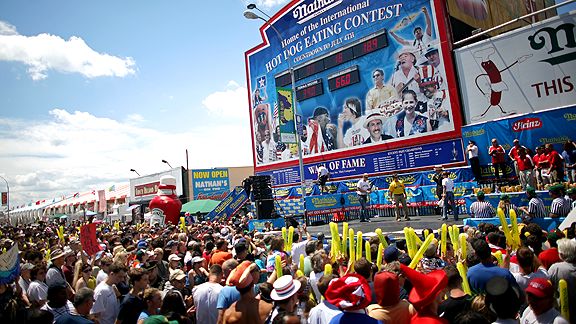 Yana Paskova/Getty ImagesThe Nathan's Famous Hot Dog Eating Contest is back on Thursday, with Joey Chestnut still champion.
It's baaa-aack: The Nathan's Famous Hot Dog Eating Contest (noon ET, ESPN and WatchESPN), that Fourth of July/Coney Island staple that lately has seen a run of dominance. Yes, with six-time champion Takeru Kobayashi still at odds with Major League Eating, Joey Chestnut has won six straight titles and is expected to nab No. 7 on Thursday. Meanwhile, Sonya "The Black Widow" Thomas is looking for a three-peat in the women's division -- and probably will get it. The drama, then, might come through the pursuit of records; both competitors have their eyes on their own historical marks. Of course, there's always the fact that speed-eating is a one-of-a-kind viewing experience.
---
Seven for 70?
Chestnut has downed 68 dogs twice. Now he's eying the big 7-0 as he goes for title No. 7.

---
Theoretical throwdown
Chestnut twice has eaten 6.8 hot dogs per minute, but Kobayashi posted a 6.45 average in 2009.

---
Back in 'Black'?
Thomas is in a league all her own, holding the top four spots on the all-time list. Last year was her best showing, with 45 hot dogs.

---
Try this at home
Of course you couldn't match these competitive eaters. But how close could you get?

---
Gorging pleasures?
Would you follow suit and munch on hot dogs? Or does something else trigger your inner glutton?

---
Gross or great?
All that food. And yet ... all that technique, strategy and, ultimately, drama.