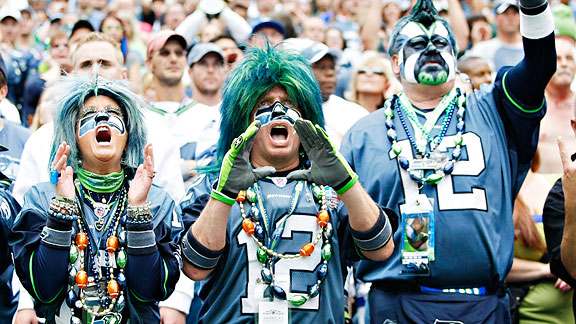 AP Photo/John FroschauerSeattle Seahawks fans have been measured at decibels almost as loud as a Boeing 747.
A Seattle Seahawks fan group, Volume 12, is set on breaking the Guinness world record for "loudest roar at a sporting event" at the team's home opener against the San Francisco 49ers on Sept. 15. They have some work to do considering their loudest roar to date is 112 decibels and the record is 131.76, set by Turkish soccer fans. Will Volume 12 get it done? Would you be the type to help, or are you the strong, silent type?
---
3 ... 2 ... 1 ... Roar?
The Seahawks have won seven of their past 10 home games against the 49ers, including the most recent matchup in which the 49ers suffered their worst loss of the Jim Harbaugh era.

---
Express yourself
In 2012 the average NFL ticket price was $78.38. So we can understand if you feel getting your moneys worth requires yelling at the top of your lungs how much you hate your quarterback.

---
Through good times and bad
The Seahawks are looking to build their best fans resume with a Guinness Book of World Records acknowledgment, but can they match the sheer intimidation factor of Raider Nation?

---
College vs. pro?
Which is more fun? Yelling at the college that took tens of thousands of dollars from you for a degree you dont use or yelling at the free agent earning millions of dollars for nothing?