Fans felt the feeling of old-time baseball when walking into Wrigley Field, but that tradition is about to become a thing of the past. The Cubs' ownership plans to install a nearly 45-square-foot LED board in left field as part of a $300 million renovation project at the 99-year-old stadium. 1060 West Addison Street was the only JumboTron holdout among major league stadiums. Was its unique charm worth preserving?
Where does Wrigley Field rank among the best stadiums in Major League Baseball?
---
End of an era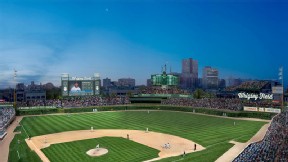 Wrigley Field will join the league's other 29 stadiums by mounting a JumboTron in its outfield.

Ray Hostetler: "The death of an era. Thanks for ruining the last great ballpark, Ricketts. The team makes enough money as a major market team to put together a quality product on the field when run properly. If you wouldn't have bitten off more than you could chew financially, you wouldn't need this eye sore. "I'd go to Wrigley if they had a Jumbotron" said no one ever."
Matt Arp: "Everyone talks about the tradition at wrigley...its a tradition of losing....we have never won a world series at wrigley...don't get me wrong I love Wrigley...and i never miss an opening day in the bleachers...but if youre gonna spend all this money why not build a new stadium all together...something that gives the players the space and tools needed to be competitive...make wrigley a museum and move on...go cubs go!"
Erik Schmidt: "Seriously, as a Chicagoan I love Wrigley just as much as anyone. But it's 2013 and it's a freaking joke that you can't watch replays at the game. There has to be some sort of TV out there. The ballpark can keep it's old time ambiance and still provide luxuries that literally every stadium and arena in the world have now."
Sean Riley: "Extremely disappointed with the Cubs. Wrigley was my favorite ballpark I've visited and it was in part because it felt different because it wasn't modern. It's truly the end of the old time ballparks."
Michael Chabus: "I live in Chicago burbs and I can tell you that this is wrong.........This is a historic building. I would leave it as is. Great memories at that park. Love it there."
Michael Keith: "They tore down Yankee stadium... if they can do that , the Cubs can add a jumbotron.. What is the big deal?"