Golf fans, start studying contours, because you've got a new responsibility coming up: At this year's PGA Championship, which begins Aug. 8 at Oak Hill Country Club in Rochester, N.Y., fans for the first time ever will choose the location of the pin -- in this case, on the 15th hole during the final round. It will happen by vote, as the PGA will offer four possibilities on this downhill, 181-yard par-3. From there, it's up to the fans, in a move Jack Nicklaus said is "like being able to call the shots during the fourth quarter of the Super Bowl." Is this heralding a new era of interactivity?
---
Put a pin in it?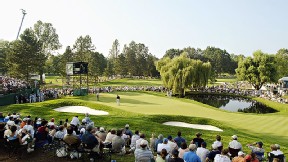 Course setup choices are usually made by the competition or championship committee.

---
Your call ...
Nicklaus made us think: Which would be more fun?

---
Could it happen?
Is it inconceivable that a contest could be held?

---
Make them suffer?
Open Championship players such as Rory McIlroy got humbled by Muirfield last week. A factor in some cases? Difficult pin placement.