Jadeveon Clowney was just doing what he was taught to do ... go after the player with the ball, wrap up and tackle. But now his infamous hit on Vincent Smith in last season's Outback Bowl could result in not only a 15-yard penalty, but possibly an ejection under college football's new targeting rules. South Carolina coach Steve Spurrier doesn't believe a play similar to that of Clowney's warrants a penalty, saying "it was a clean hit because he hit him in the chest and sort of ricocheted up and knocked his helmet off," and other coaches around the SEC agree.
---
Game changing hit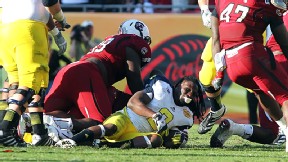 ACC coordinator of officials Doug Rhoads stated he would have penalized Jadeveon Clowney for targeting for his hit on Vincent Smith.

Clarke Cripe: "What's next, taking off the pads and using flags?"
Amy Nichols Jarrard: "If the guys helmet had not came off it would not have looked as vicious as it did. It was a clean hit. That was not a defenseless player. Lets deal with players wearing helmets that do not appropriately fit."
Matt Baird: "I can't see how that hit is being used as a targeting example. Clearly a clean hit."
JR Skala: "Clean hit...awesome hit...exciting hit...its football at its best. Perfectly read and executed by Clowney. And his one hand snag of the loose ball in the process...COME ON MANNNNN! Play of the year!"
Robert James McBride: "just watched the play over again and 5 years ago I would of said good clean hard hit, but under the new rules, he definitely lowered his head and hit the Michigan player under the face mask going up....probably would of gotten ejected."
Jeffrey Carte: "I think many of you are looking at this from the new rule. He did hit the guy in his chest. However, there are also rules against leading with the crown of the helmet. Clearly, the very top of Clowney's helmet hit him in the chest."