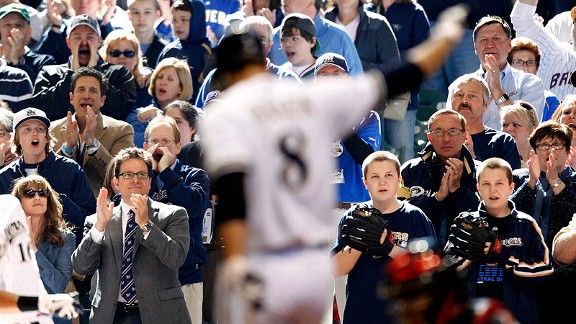 While Ryan Braun won't play the remainder of the 2013 season, his place on the Brewers roster isn't in jeopardy. Team owner Mark Attanasio stated that although he's disappointed in Braun's actions, he hopes to keep Braun in Milwaukee, and intends on helping him overcome the damage done by his suspension for violating the league's drug policy. If you were a Brew Crew fan, would you feel the same way?
Kyle Dubya Smith: "The Milwaukee Brewers endorse cheating. Nice."
David Gross: "Stand by your player until... The attendance drops, his BA, HRs, RBIs and speed on the field fall off, and he gets shunned by his own team. Then lets see how long Braun stays with the Brewers before he is shipped and the Brewers pay the bulk of his contract anyway."
Jarran Sunkett: "In other words ... We owe him a ton of money, we wouldn't be able to get rid of the guy for a class A utility player right now, so let's make the best of it."
Mark Thomas: "Of course he isn't going to say otherwise. If his intention is to move him then saying so only hurts leverage."
Shaun Simpson: "Blackball him...give him the ole Jose Canseco treatment. He lied to everyone..and stole an MVP...and stole a better contract...when the trust is gone...move it on..."
Christian Saporita: "Attanasio is a class act, and one of the best owners in the game. He loves Milwaukee, and is committed to not only bringing a winning product to the city, but also to doing it in a classy way. I could easily see him becoming a mentor to Braun to guide him on how to grow and become a better person through all of this. Way to go Mark!"
What do you think? Leave your comments below.