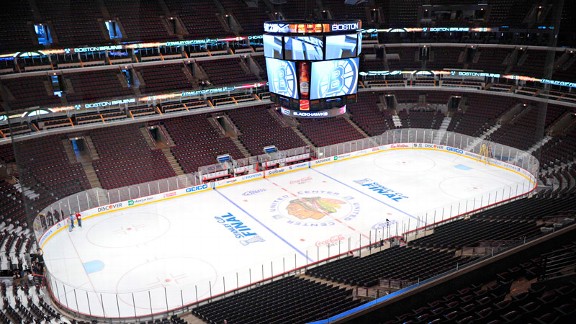 Rob Grabowski/USA TODAY SportsJust look at all that ... memorabilia.
They won the Presidents' Trophy as the NHL's best regular-season team, then claimed -- albeit not without a little drama -- the Stanley Cup. To commemorate, the Chicago Blackhawks announced they are selling samples of melted United Center ice from the 2013 playoffs, with proceeds going to charity. We don't need to tell you not to drink that water ...
---
Get in the game
From full jerseys to pieces of broken bats, items that have seen major-sports action are increasingly available to willing fans.

---
On the ground floor?
The NFL is king in America, but grass doesn't quite hold up over time.

---
Worth remembering?
Both the Blackhawks and Heat were thisclose to seeing their championship dreams go full nightmare. But each turned it around.

---
More glory?
The NHL hasn't seen a repeat champion since 1998, but the Bulls must overcome a suddenly stacked Eastern Conference upper crust.