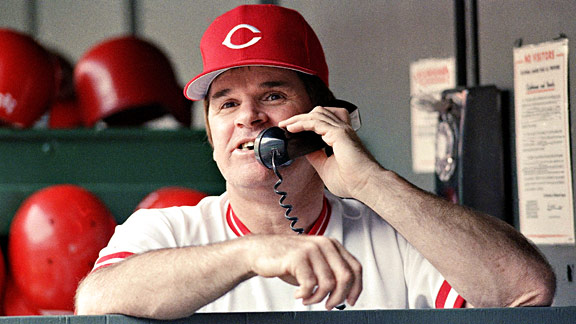 AP Photo/Al Behrman
Pete Rose is qualified to give advice on a number of subjects -- hitting, hustle, over/under bets and so on -- but one thing he has more experience with than nearly anyone else is the consequences of getting banned from baseball. Rose weighed in on players suspended in the Biogenesis scandal with this piece of advice: come clean as soon as possible, lest they face more punishment than they've already received. Betting on baseball is a much different sin than taking performance-enhancing drugs -- at least with PED use the intent is to win more games -- but Rose may have a point. Had he come clean early on, he might be where his stats say he belongs: in the Hall of Fame.
---
Worse offense?
Alex Rodriguez did not receive a lifetime ban for his PED use, unlike Rose's permanent ineligibility for gambling.

Here's a sampling of what readers had to say in our Facebook conversation on the story:
Robert L. Mango: "I love this line - Baseball and the players' association have rules. If you stay within the rules -- which say that you can play while you're appealing -- I don't see what anyone would be in arms about. Hey pete, he didn't play by the rules, why should he hide behind them when they only help him!"
Eduardo Martinez: "Lifetime ban aside, Rose can't even get on a HOF ballot... yet these 13 bums get to play on. MLB & MLBPA still can't seem to do right by the game."
Jeff Klein: "What Rose did was wrong but it still pales in comparison to the detrimental effect anabolic steroids had on the game. I know Pete wants to get his ban lifted to get back into the game. So he is trying to say the right things, it shows he has accepted responsibility for his actions after all these years."
Mary T. Burke: "I hope Rose is never allowed back in. As a manager, he had the power to alter the results of the games. In every clubhouse, there is a sign that reminds the players and coaches to not gamble on baseball. Rose was a gambling addict who couldn't stop, and as a result he did serious harm to the game. Just like Barry Bonds, Sammy Sosa, Mark McGuire, etc. Rose was a great player, but he tarnished baseball and the door is closed."
Keith Carsillo: "Only my opinion....Rose deserved to be punished, but his gambling transgressions to me were far less of a detriment to baseball then PEDs are. And his gambling as a manager shouldn't exclude him from being inducted as a player."