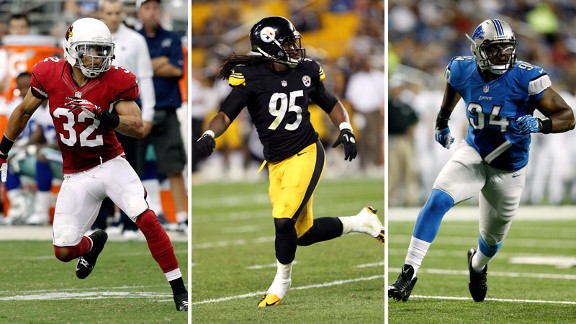 Last year, Luke Kuechly was NFL Defensive Rookie of the Year. The season before? Von Miller. In all, nine of the past 10 winners have been linebackers, meaning the likes of Arthur Brown, Jarvis Jones and Manti Te'o must be favorites, right? Or will someone else -- maybe a certain safety in Arizona -- emerge? Rank the candidates!
Rank 'Em: MVP | QBs | RBs | WRs | TEs | DLs | LBs | DBs | Offensive ROY


Rank: NFL Defensive ROY Candidates
Ezekiel Ansah


Arthur Brown

Matt Elam

Jarvis Jones

Dion Jordan


Star Lotulelei

Star Lotulelei
DT, Panthers
Tyrann Mathieu

Tyrann Mathieu
S, Cardinals
Dee Milliner

Barkevious Mingo

Barkevious Mingo
LB, Browns

Alec Ogletree

Manti Te'o

Kenny Vaccaro

Your Rankings
1.

2.

3.

4.

5.

6.

7.

8.

9.

10.

11.

12.

Tags:
NFL, St. Louis Rams, Pittsburgh Steelers, Detroit Lions, Baltimore Ravens, Miami Dolphins, Carolina Panthers, Arizona Cardinals, New York Jets, Cleveland Browns, San Diego Chargers, New Orleans Saints, Ezekiel Ansah, Arthur Brown, Matt Elam, Jarvis Jones, Dion Jordan, Star Lotulelei, Tyrann Mathieu, Dee Milliner, Barkevious Mingo, Alec Ogletree, Manti Te'o, Kenny Vaccaro