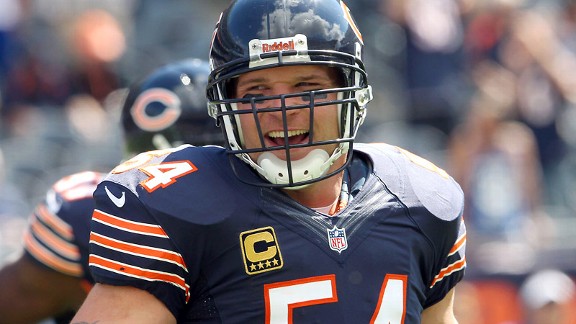 Nuccio DiNuzzo/Chicago Tribune/MCT
The NFL has been under fire recently for its approach to player safety, but at least one former player is saying that some teams took advantage of the system. Bears legend Brian Urlacher claimed his own team (like most others around the league) would fake injuries in order to slow down fast-paced offenses. This isn't anything new, exactly, but to hear a former player (especially someone of Urlacher's stature) just come right out and say it is a rarity. Given the proliferation of high-powered offenses in recent years, we're not surprised to hear that teams are resorting to chicanery to slow them down.
Here's a sampling of what readers had to say in our Facebook conversation on the story:
John Alan: "That's cool, make it a rule that "injured players can not return to the field for a designated time period, or period in play. Will soon cut it out."
Joshua Thompson: "I thought this only happened in Soccer... Don't give me another reason to discredit the NFL, NFL."
Joe Bittner: "Next thing he will be telling us is that the coaches have guys on the sidelines trying to steal the other sides signs and that the sky is blue. Duh."
Andrew McKenzie: "Every sport has it, alas... when the stakes get high, competition pushes people to do this kind of thing. Comes with the territory, and always has."
Bill Edwards: "The injured defensive player should have to sit the rest of the drive or the rest of the quarter. If player safety is such a big concern that would make sense and maybe limit this from happening. Make an "injured" defensive players penalty box to keep it in line."
What do you think? Leave your comments below.