September 14, 2013
Sep
14
During Saturday's lopsided win over Tennessee, Oregon fans began chanting "We want Bama!" with enough passion that Nick Saban and A.J. McCarron might have heard it all the way over in College Station. Not only does Oregon want it, pretty much everyone who has watched a down of college football over the last two seasons wants it as well. While we wait to see how this season plays out and whether we will get our wish, cast your vote on how an Alabama-Oregon game would play out and how much the location would matter.
---
In the heart of SEC country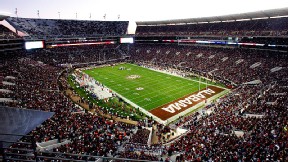 Alabama's last home loss was to Texas A&M 29-24 last November.

---
On the West Coast
Oregon's last home loss was to Stanford 17-14 in overtime last November.

---
Somewhere in the middle
Both teams have a game plan that translates to any city, on any surface at any time.

---
Better leader?
Alabama's A.J. McCarron is cool under pressure, but does he have Marcus Mariota's quickness?

---
Biggest test?
Oregon will be looking to avenge the overtime loss to the Cardinal last season.