September 17, 2013
Sep
17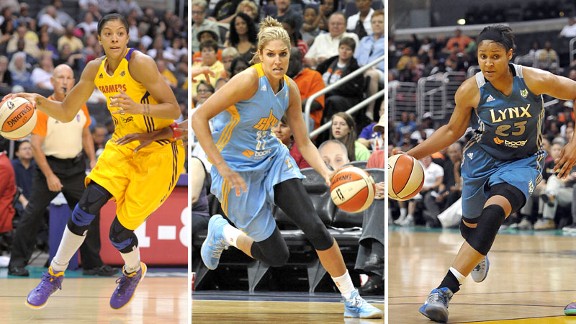 Chicago will make its first playoff appearance in franchise history after going from the second worst team in the Eastern Conference last season to sitting atop the standings in 2013. Will the Sky bring the Eastern Conference back-to-back championships for the first time in league history? Are the Lynx, who have the WNBA's best record for the third straight season, the favorite to become the sixth team to win multiple titles? Set your rankings!


2013 WNBA playoff teams

Dream

Dream
Atlanta Dream
Record: 17-17
Eastern conf. 2-seed

Fever

Fever
Indiana Fever
Record: 16-18
Eastern conf. 4-seed

Lynx

Lynx
Minnesota Lynx
Record: 26-8
Western conf. 1-seed

Mercury

Mercury
Phoenix Mercury
Record: 19-15
Western conf. 3-seed

Mystics

Mystics
Washington Mystics
Record: 17-17
Eastern conf. 3-seed

Sky

Sky
Chicago Sky
Record: 24-10
Eastern conf. 1-seed

Sparks

Sparks
Los Angeles Sparks
Record: 24-10
Western conf. 2-seed

Storm

Storm
Seattle Storm
Record: 17-17
Western conf. 4-seed
Your Rankings
1.

2.

3.

4.

5.

6.

7.

8.