September 27, 2013
Sep
27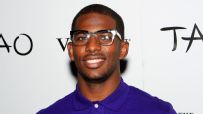 Welcome to SportsNation! On Friday, Los Angeles Clippers point guard Chris Paul chats about his community work and the role of athletes in improving the lives of children.
A member of the President's Council on Fitness, Sports & Nutrition, Paul was a guest of the Aspen Institute's Project Play, a series of moderated conversations on the opportunities to build active, healthy communities through sports. The project launched in April 2013, with partners including ESPN, the Robert Wood Johnson Foundation, Clinton Foundation, Nike and the Packard Foundation.
A six-time NBA All-Star and a two-time Olympic gold medalist, Paul began his philanthropic work prior to his NBA stardom. His foundation, established in 2005, focuses on impacting communities by using resources to enhance and promote education, health, sports and social responsibility for youth and families.
Send your questions now and join Paul on Friday at 4 p.m. ET!
More Chris Paul: Project Play | CP3 Foundation | @CP3