Five months after having surgery to repair a torn meniscus in his right knee, Russell Westbrook has gone back under the knife. It was announced Tuesday that the Thunder point guard underwent arthroscopic surgery on the same knee after experiencing swelling caused by a loose stitch. As a result, he will miss the first four to six weeks of the regular season. Westbrook said once fully recovered, he doesn't plan on changing his style of play. Will going through two knee surgeries in a short period of time change his play for him?
---
Better than before?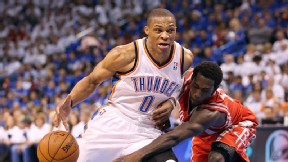 Russell Westbrook averaged 23.2 points, 7.4 assists and 5.2 rebounds, and had the NBA's fifth-highest win share total of 11.6 last season.

---
Poised for a deep run?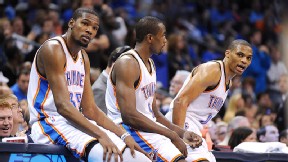 The Thunder have made it to at least the Western Conference semis in each of the past three years.

---
Here's a sampling of what readers had to say in our Facebook conversation on the story:
Ira Murray: "Something doesn't seem right. Swelling was caused by a "loose stitch", but he's having surgery that will keep him on the shelf for 2 months? Either they are lying about his healing, or he wasn't going to be ready for the season anyway."
Dan Ellertson: "Having Brandon Roy flashbacks right now.... hopefully Westbrook doesn't end up injury-ridden like Roy did after that surgery."
Danny Pierce: "I can definitely see Russell Westbrook being one of those guys who's never the same from here on out...relies too much on athletics, he's gonna lose a step with all these injuries"
Chris Calvert: "Westbrook will be fine! We just need to sit back and chill! It's for sure a small setback but as long as it heals to 100% like they say then everything will be good!"
What do you think? Leave your comments below.