Athletes and fans are people, and people love animals. So Sammy the Squirrel's sudden celebrity status Thursday at the Presidents Cup is hardly a surprise. The fun is over, because U.S. assistant captain Davis Love III sent Sammy back into the wild Friday morning. But it got us to thinking: Sammy's not the only four-legged critter who ever crossed the sideline. In fact, he's not even the only squirrel. Cardinals fans embraced the Rally Squirrel during the team's 2011 World Series run, and tennis fans witnessed squirrels interrupt play in 2012 and 2013 at the U.S. Open. Do you find it charming or annoying?
---
Getting squirrelly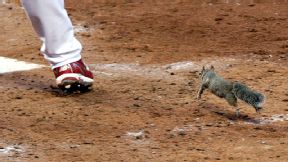 Some think they're cute. Some call them "rats with good public relations." But one thing is true: Squirrels are not supposed to play sports.

---
Great seats, eh, buddy?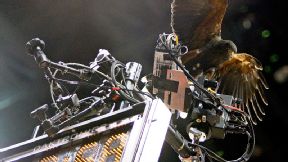 Spirit the Hawk soared around Atlanta's Phillips Arena before a 2009 NBA playoff game, then decided he preferred the view from the backboard.