And you thought you knew everything about LeBron James. In an interview with ESPN's Chris Broussard for an upcoming issue of ESPN The Magazine, LeBron opens up about his appreciation for Michael Jordan (we knew that) and Allen Iverson (we didn't know that). What's interesting is he hails both players for their fearlessness and then discusses how he has worked to overcome his own fear of failure. He also talks about whether he could or should become a "flat-out scorer" and his leadership role on the Heat. Is James on his way to becoming the greatest player in NBA history?
---
Surprise Answer?
LeBron James says Allen Iverson was second only to Michael Jordan among his favorite players growing up.

---
No fear
LeBron says he had to work to overcome his fear of falling short in big moments.

---
Skill set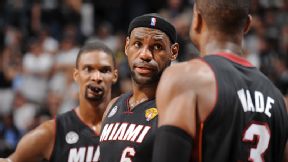 If LeBron says he's not a "flat-out scorer" and has other skills, like being a team leader.

---
Ancient history?
"The Decision" and its aftermath left many fans with a negative impression of LeBron, but that was four years ago.