The Knicks looked good in the first half of their season opener, leading the Bucks by 25 points at halftime. But that was short-lived as the Knicks had to come from behind in the fourth to win. From there came three consecutive losses, including one to the Bobcats, and a broken leg for their defensive anchor Tyson Chandler. Carmelo Anthony admitted he's been a "bit passive" in the final quarter, but are the Knicks' struggles more than just Anthony's offensive submissiveness?
---
Slow out the gate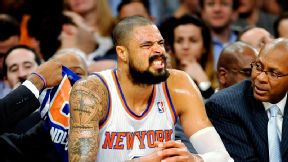 The Knicks haven't lost three straight games after winning their season opener since the 2006-07 season -- a season in which they finished 33-49.

---
Extended run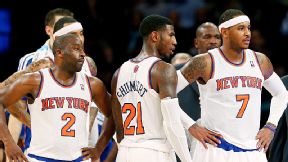 The Knicks have made the playoffs in each of the past three seasons, averaging 44 wins per season.

---
Offense over defense?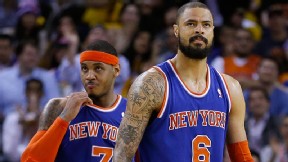 In 106 minutes with Anthony on the court, the Knicks scored 98.2 points per 100 possessions and 87.3 without. In 106 minutes with Chandler on the court, the Knicks allowed 92.2 points per 100 possessions and 105.6 without.

---
Struggling now, struggling later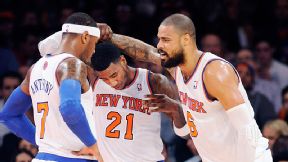 The Bulls and Knicks are dealing with injuries. The Nuggets have a first-year head coach and new players. Are their records reflective of more than just growing pains?