Next Tuesday's Knicks-Pistons game in Detroit wasn't circled on our calendar when the NBA schedule was released. Thanks to a good old-fashioned Twitter smackdown between the Pistons' Brandon Jennings and the Knicks' J.R. Smith, we'll be paying more attention. ESPN.com's Marc Stein reports the league is investigating the feud, which started when Jennings questioned why Smith's brother Chris is on the Knicks' roster. J.R. Smith replied by raising the possibility of sending his "street homies" to Detroit and declaring he had "no respect" for the Pistons guard. Smith later said he didn't intend to threaten Jennings, but it's not the first time his posts on the social media platform have brought him trouble.
---
Family matters
J.R. Smith says he was sticking up for his brother Chris when he replied to Brandon Jennings' comments on Twitter.

---
Crossing the line?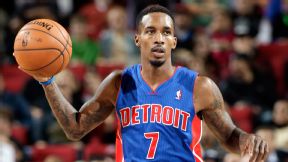 Brandon Jennings' comments about Chris Smith's presence on the Knicks' roster got J.R. Smith's attention.