One hit in Sunday's Saints win over the 49ers could change the fortune of two NFC playoff contenders -- and some folks aren't very happy about that. Namely, Niners linebacker Ahmad Brooks, whose hit on Saints quarterback Drew Brees proved to be the turning point. Brooks said his play, which forced a Brees fumble the 49ers recovered, was a bearhug and not a helmet-to-helmet hit. But the referees saw Brooks' arm ride up to Brees' neck as he finished the hit and called roughing the passer. The loss could cost San Francisco in the playoff race, as the 49ers dropped into a tie with the Cardinals in the NFC West.
Here's a sampling of what readers had to say in our Facebook conversation on the story:
Arun Nair: "I agree with Brooks that he bear hugged Brees to the ground. However, he bear-hugged his neck, which is why there was a flag."
Nate Grenier: "Awful call. What is Brooks supposed to do when coming around the edge on a pass rush? As soon as he beat his man he leveled Brees. There was no chance of changing where Brees was getting hit on that play. Is Brooks supposed to stop and analyze where to hit the QB? Give the QBs flags if this is the stuff they are going to call to change the outcome of a game."
David Meilleur: "Looked like a good call to me. The NFL made it clear not to hit the QB's high. This hit was to the neck."
Troy Chewning: "Absolutely terrible call. It was a hard hit, but it was a clean to the chest. Maybe they should flag the offensive lineman for getting speed rushed like it's high school."
Jonathan Pollard: "This is simple economics. The NFL has to change the rules on hits in order to survive through the next several decades. Watch League of Denial and talk to Tony Dorsett and Junior Seau's family. Also, QBs are valuable commodities. They will always be protected more than other players. Just the way it is."
---
The correct call?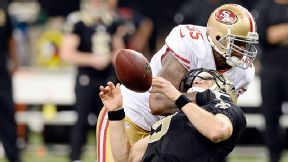 Ahmad Brooks' fourth-quarter tackle of Drew Brees led to the Saints' game-tying field goal.