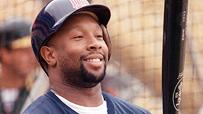 How much do you know about each postseason team?
The playoff teams are (mostly) all set, with only the AL Central still up for grabs. You may know a lot about each playoff team, having followed them for a full 162 (or, in the case of the Tigers and Twins, 163) games, but how much do you know about their respective playoff histories? Are you truly familiar with the famous and infamous moments of every postseason run? Sure, you've got the name, number, date of birth, and blood type of your favorite team's postseason walkoff home run champ memorized -- but do you know who was on deck when he had his most famous hit?
Test your knowledge with our postseason quiz!