Rank 'Em: NBA Playoffs
Created: April 15, 2008, 10:00 AM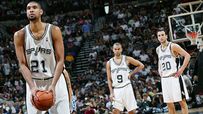 Where do the defending champs rank this season?
The NBA playoffs may more closely resemble a pair of eight-team brackets than a single 16-team bracket, but that doesn't mean we can't think about the big picture. Now that the field is set in the chase for the Larry O'Brien Trophy, how do you rate the contenders? Are all eight of the Western Conference entrants among the top 10 teams in the field? Where do you place the Celtics relative to the best of the West?The ensuing weeks will offer a definitive answer on the contenders and pretenders in the postseason, but what's your take at the outset? You must rank at least
FIVE
teams to submit your ballot.