Rank 'Em: 2011-12 NBA Power Rankings
Created: November 27, 2011, 10:06 PM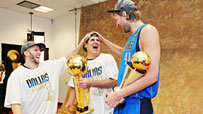 Where do the reigning champion Dallas Mavericks rank?
Which are the elite teams heading into this NBA season?
The offseason was filled with meetings and mediation as players and owners tried to work out a labor agreement. Now, with a tentative deal in place, the NBA could tip off on Christmas Day.
LeBron James, Dwayne Wade and company will watch as the Mavericks receive their rings on opening day. Will that be the motivation the Heat need to win the first of their promised titles? With a well-rested Dirk Nowitzki, is Dallas a favorite to win their second championship? And where do Kobe Bryant's Lakers or Kevin Garnett's aging Celtics fit in?
Rank all 30 NBA teams below! You need to select at least FIVE teams to submit your rankings.
Rank 'Em: 2011-12 NBA Power Rankings

Loading...

&nbsp

YOUR RANKINGS

1.
2.
3.
4.
5.
6.
7.
8.
9.
10.
11.
12.
13.
14.
15.
16.
17.
18.
19.
20.
21.
22.
23.
24.
25.
26.
27.
28.
29.
30.