Rank 'Em: Disruptive Animals
Created: June 2, 2009, 11:28 AM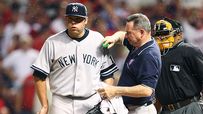 Joba refused to be bested by midges the second time around.
On Monday, Joba Chamberlain did not allow the return of the midges, or a flock of seagulls in right field, to affect his game as he went eight innings to earn his third win of the season. For those of you who don't remember, during Game 2 of the 2007 ALDS, Chamberlain had to deal with a swarm of midges (flies) that infested the field in Cleveland. But were those midges the most disruptive animals to interrupt a sporting event in recent memory?
Below we've listed five recent animal interruptions and now it's time for SportsNation to rank the most disruptive.
You must rank all FIVE to submit your choices.

Rank 'Em: Disruptive Animals

Loading...

&nbsp