Rank 'Em: MLB Pitchers
Created: February 21, 2008, 1:12 PM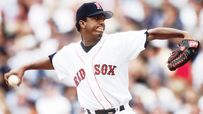 Where does Pedro Martinez's 2000 season rank all-time among pitchers?
Bob Gibson's 1.12 ERA. Steve Carlton's 27-win season. Ron Guidry's nine shutouts. Randy Johnson's fourth straight 300 strikeout season. Add in Greg Maddux's 0.811 WHIP. Pedro Martinez's 291 adjusted ERA.
All of these seasons are among the best ever by a Major League pitcher. There are many other superb seasons put together by pitchers. But we've narrowed it down to the top 10 since 1950 and we want you to rank them, SportsNation!
You must submit at least FIVE for your votes to be counted.

Rank 'Em: MLB Pitchers

Loading...

&nbsp