Rank 'Em: All-time best WNBA players
Created: March 25, 2011, 9:33 AM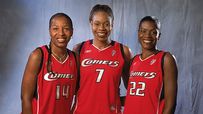 Cooper, Swoops and Thompson are all four-time WNBA champs but who's the best all time?
In honor of the 15th anniversary of the WNBA, we ask, who are the greatest players in league history?
In March, four-time WNBA champion and three-time league MVP Sheryl Swoopes announced she is ready to lace up the Nikes and return to the WNBA hardwood after a two-year hiatus. The 40-year-old has signed a deal to play with the Tulsa Shock.
Swoopes (aka the "female Michael Jordan") is known as one of the best players in WNBA history, but where does she rank among the all-time greats? Is she ahead of former teammates Cynthia Cooper and Tina Thompson? Where do Lisa Leslie and Lauren Jackson fit in?
It's time for you, SportsNation, to rank the best players in WNBA history!
Rank 'Em: All-time best WNBA players

Loading...

&nbsp