Rank 'Em: Greatest Yankees
Created: September 20, 2011, 7:16 AM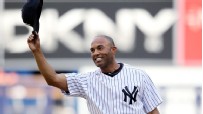 Where does Mariano Rivera rank?
Who are the greatest players ever to wear pinstripes for the Yankees?
History is never far from the forefront when it comes to a franchise with as many championships and Hall of Fame players as the Yankees, but this year has been special by even those standards. Derek Jeter became the first player in franchise history to reach 3,000 hits, and Mariano Rivera's 602nd save gave him sole possession of the all-time MLB record.
Where do Jeter and Rivera fit in Yankees lore? ESPN New York users ranked the greatest Yankees before the season. We're offering up their top 10 below and asking you to put them in order.
Rank 'Em: Greatest Yankees

Loading...

&nbsp