Rank 'Em: Best football finishes
Created: October 25, 2011, 4:59 PM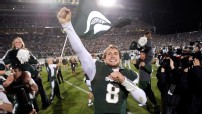 Where does MSU's Hail Mary rank among the greats?
How would you rank some of the best finishes in football history?
There have been some electrifying finishes on the gridiron over the years, but only a few will go down as truly legendary plays. Michigan State made its case last weekend to join the club with a Hail Mary to beat undefeated Wisconsin. Where does it rank among the all-time great plays?
Below you'll find some of the greatest plays in football history. Determining the proper order is up to you. Rank away.
You must submit at least FIVE for your vote to count.
Rank 'Em: Best football finishes

Loading...

&nbsp