Rank 'Em: World Series MVP
Created: October 28, 2011, 11:08 AM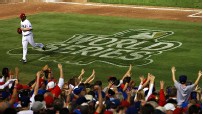 Who were the Fall Classic heroes?
Who were the most valuable players in the World Series?
Seven games aren't a lot in the span of a baseball season, but they represent more than enough time for a player to craft a legacy that lasts a lifetime. Following in the footsteps of Edgar Renteria for the Giants in 2010 and Hideki Matsui for the Yankees in 2009, who was the most important player in this year's Fall Classic?
We've assembled some of the prime candidates below, but the final order is up to you. Rank the most valuable Cardinals and Rangers.
Rank 'Em: World Series MVP

Loading...

&nbsp