Rank 'Em: NFL MVP Favorites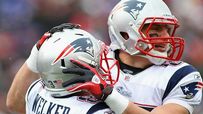 Where do Patriots Wes Welker and Rob Gronkowski rank on your list?
How do you rank NFL MVP candidates?
Tom Brady is having his usual MVP-worthy season, so much so that two of his targets - wide receiver Wes Welker and tight end Rob Gronkowski - are also feeling the MVP love. How do these three Patriots stack up against an undefeated Aaron Rodgers, a clutch Eli Manning and a possible record-breaking Drew Brees? Click on the photos below to cast your votes!


NFL MVP Favorites

Tom Brady


Drew Brees


Arian Foster


Rob Gronkowski

Rob Gronkowski
Patriots TE

Eli Manning


Ben Roethlisberger

Ben Roethlisberger
Steelers QB

Aaron Rodgers


Matt Ryan


Terrell Suggs


Wes Welker

Your Rankings
1.

2.

3.

4.

5.

6.

7.

8.

9.

10.