Rank 'Em: Most Hated Teams
Created: July 29, 2008, 10:03 AM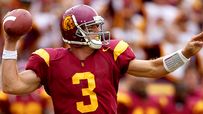 We have a feeling former USC QB Carson Palmer would vote Ohio State No. 1.
There is nothing more rewarding in sports than supporting your favorite team through thick and thin ... except, maybe, seeing a hated rival go down. The reality of fandom, for many, is that it is a package deal: If you love Team A, then you naturally love to hate Team B, especially if Team B has a history of pounding on your guys en route to national titles.
Below, we have listed the ten college football programs fans just love to hate, according to Mark Schlabach, and now it's up to SportsNation to let all the hate out. Do shouts of "Roll Tide!" get your blood boiling? Do you hook your horns upside down? Does the thought of dotting your i's make you sick? If so, you have come to the right place.
Rank your most hated teams, then compare your ranking to the rest of SportsNation!

Total SportsNation Votes:

122,803
How are the points calculated?
On a poll with 10 options, a No.1 ranking equals 10 points, a No.2 ranking equals 9 points, etc. The item with the most points will be ranked first.