Rank 'Em: College Football Rivalries
Created: July 1, 2009, 11:48 AM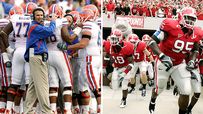 Is Florida-Georgia the best rivalry in all of college football?
The battle to be No. 1 usually goes through that one conference foe you just don't want to see but can't seem to avoid. From the SEC to the ACC to the Pac-10, rivalries and bad blood die hard.
With the college football season just around the corner, ESPN.com senior writer Pat Forde came up with his red-hot gridiron rivalries for '09. The SEC is well-represented with Florida-Tennessee and Georgia-Florida. The Red River Rivalry between Texas and Oklahoma is always at the top of the list. And Ohio State-Michigan never seems to disappoint. But with all these rivalries sure to come correct, which one tops your list as the best?
More: Rank Pat Forde's Top 10 college basketball rivalries