Rank 'Em: Sun Belt Teams
Created: August 20, 2009, 8:43 AM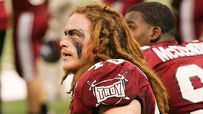 Where do Bear Woods and the Troy Trojans rank?
Troy has only been in the Sun Belt Conference since 2005, but the Trojans don't need Hector to win down south.
The team has been at the top of the heap in the Sun Belt for the past three years, no doubt in part thanks to the defensive prowess (and awesome hair) of players like linebacker Bear Woods. But will they be able to stand up to the pressure this season? We'll find out for certain soon enough, but for now, we want your opinion!
Which team is the Sun Belt's best? Submit your rankings now!
You must rank at least FIVE for your vote to count.

Rank 'Em: Sun Belt Teams

Loading...

&nbsp