Rank 'Em: Top Stars Of The Decade
Created: December 18, 2009, 6:07 PM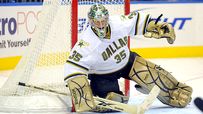 Marty Turco has been a mainstay in the Stars' lineup since 2002
The Dallas Stars have won seven division titles in Dallas, two President's Trophies as the top regular season team in the NHL, the Western Conference championship twice, and in 1998-99, the Stanley Cup. But since then, the franchise doesn't have much to speak of.
As we bid farewell to the first decade of the 2000s, ESPNDallas.com has culled together some of the names of those who made it happen for the old North Stars over the past 10 years. Now it's your turn to tell us where they rank.
Weigh each player's attributes and cast your vote now!
You must rank at least FIVE for your vote to count.
Rank other Dallas all-decade lists: