Rank 'Em: Chicago Teams of the Decade
Created: December 22, 2009, 11:06 AM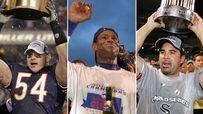 A Super Bowl to forget but a season to remember. A White Sox winner. And a World Series near-miss.
We've done our best to comb through all the great teams to come up with what we consider the 15 best. Now it's your turn to tell us what you think are the top Chicago teams of the 2000s.
Cast your vote now!
You must rank at least FIVE for your vote to count.
Rank Chicago all-decade teams: