Rank 'Em: Top Chicago Athletes of the Decade
Created: December 29, 2009, 12:59 PM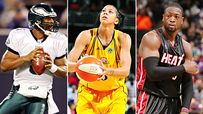 The Chicago area has always produced big-time athletes, and the past decade has been no exception. Multiple high school state title winners. NCAA titles. NBA titles. And Olympic medalists. Local products had a banner decade.
We've done our best to comb through all the great local athletes to come up with what we consider the 10 best. Now it's your turn to tell us who you think are the top Chicago athletes of the 2000s.
Cast your vote now!
You must rank at least FIVE for your vote to count.
Rank Chicago all-decade players: